Page 1 of 7

The emergence of EMBFileTransfer developed by CHILEOFFSHORE is to solve these problems:
Problem with company's partners to perform conciliations of daily online transactions or periodic files loadings such as customers' debts etc.,
Problem with leak of files which contain sensitive information
Problem with some operators who just forget to start process of conciliation, or load business partners' files into the system which cause customers' complains and lower down your company's reputation,
Problem with different time zone for which the system don't allow you to exchange file with you foreign office, or foreign business partners.
When your company works with hundreds business partners, problem to know which files must be arrived at next 24 hours from your business partners.
Same problem from the other side, what files your company must be sent out to your business partners.
So, if you feel one or more of these problems sound to your business, the EMBFileTransfer will help to solve the problem.

EMBFileTransfer is leading product which was designed to solve these problems, it counts following benefits and characteristics:
Send file instantaneously,
Expected Deliver Calendar (EDC) to make agendas of delivers, which can be hourly, daily, weekly, monthly and yearly
For EDC weekly, monthly and year can work with working days, positive number means from start and negative number means from the end of.
One time delivery which is useful to make agenda of future delivery.
Email and SMS alerts base on the delivery events,
File compress and encrypt,
Work with different time zone,
Upload and download file from and to user's workstation, Windows, Linux and Mac OS
Big file will be split into small pieces and rebuild at the receiver's side,
When transmission fails, only one split file will be resent,
Working with EMB Mini Switch, a process network can be built easily to automatize your whole batch jobs.
Administration of working days and holidays of each country
Authentication and authorization
Usage and audit reports.
Platforms
Windows, Linux, Mac OS, Unix
Basic Concept Of EMBFileTransfer - MailBox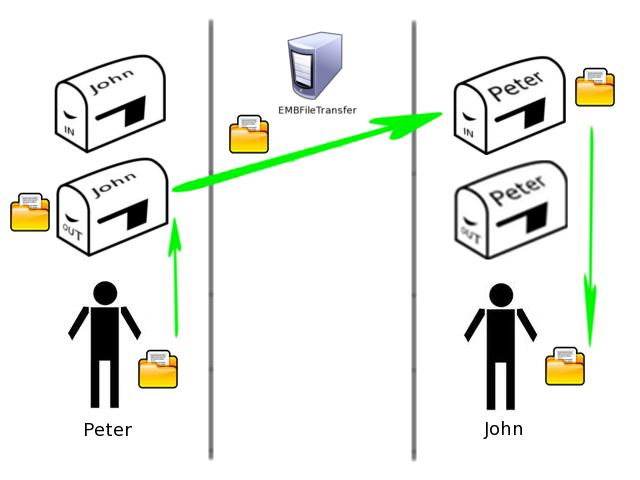 Diagram 1 - How files are transferred Between Two EMBFileTransfer Users.
The most elementary concept of EMBFileTransfer is Mail Box. It is based on the same concept of home mail box but with certain extension for reason it is on the virtual world. And here, the mail man is the EMBFileTransfer.
For each user of EMBFileTransfer system, he/she will have two mail boxes per each other user on the system. Just like Mr. Peter in the Diagram 1, he has Out Mail Box of John to start to transmit files to Mr. John, and also for Mr. John, he has Peter's In Mail Box to receive files from Mr. Peter.

Request for more information...